Interview with Jerry Ahern (and a contest!)
Posted on: February 22, 2010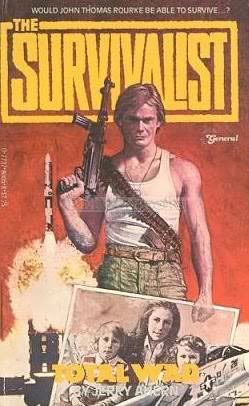 THE SURVIVALIST is a series of twenty-nine novels published from 1981-1993. This series of books was the first, and arguably one of the best, of all the end of the world series that became popular in the 1980s and 1990s. With John Thomas Rourke (ex-CIA, weapons expert, survival guru, medical doctor, etc), Jerry and Sharon Ahern created a character so popular and later so imitated it now seems cliche. But, when these books were first being published, nothing like them had come before.
Recently, Jerry Ahern was kind enough to participate in an interview with me. Details on the associated contest are at the end of the interview.
First of all, I'd like to thank you for taking the time for this interview. It is greatly appreciated! Most of our readers are familiar with you due to your series The Survivalist. Can you tell us the overall story's genesis? What compelled you to write the series?
When I was Associate Editor of GUNS Magazine, I encountered a great deal of information concerning everything from survival property to survival food to survival vitamins. Sharon and I discussed this from time to time. I came to the conclusion that, regardless of the catastrophe – say a thermonuclear total war – people saw themselves as surviving somehow, rising to the occasion and triumphing over adversity. In John Rourke, we had a man who was not only a survival expert, but, because of his training as a physician and his work with the CIA, was someone with the requisite skills to survive almost anything. And, because he espoused the motto "It pays to plan ahead," and lived that motto, he was prepared to survive in
style. We had two children the same ages as Michael and Annie and their very names were our children's middle names.

How much research did you do in designing Rourke's mountain retreat? Were there any major influences in the design?
Sharon and I wanted something that was comfortable and convenient for the Rourke Family. Remember, Rourke built it to house his family as happily and safely as possible in the aftermath of Armageddon. The Retreat needed electrical power, etc., and we thought of what was needed and "engineered" The Retreat to accommodate those requirements.
Regarding John Rourke's wife Sarah, was your intention to have her character go from being more or less a neophyte with regards to survival skills and develop into a confident leader or did this just happen naturally as the overall story progressed? A few of our female readers have taken umbrage at what they felt were unwise decisions Sarah made early on. I felt those decisions, such as leaving the area of her home where she might have been easier to find by her husband, just illustrated a lack of preparedness and foresight that would be natural to her character at that point in her life. They may have been the wrong decisions to make but they were realistic and not without consequence.
I'm a very firm believer that characters, if they are well-drawn, take on a life of their own, as it were, and mature, change, grow, develop. Sarah had accepted the classic silliness that bad things don't happen to good people and she would never need to protect herself. Sarah fled with the children because she perceived her location to be on a route refugees would be taking and she and the children would be sitting ducks. Perhaps she started that maturation process when Michael protected his Mom by stabbing the man trying to molest her.
In the later books, the series took a turn towards science fiction, rather than focusing on the more or less straight action it had been. Why the change? What influenced that decision?
It wasn't really a change. All twenty-nine books are chapters in a "soap opera," as it were, and by that I mean no disrespect. It is one giant novel of around two million words, give or take. The story progresses and the Eden Project was foreshadowed by the President's child playing with a toy Space Shuttle as the attack is coming. We were not eager for the Publisher to know about science fiction being an element of the series because the Publisher did not publish science fiction and didn't want to!

If you were to write The Survivalist series today, what changes might we see compared to the original storyline?

We would not be able to ignore the greatest threat western nations have faced in modern times – Radical Islamic Fundamentalism. It's a different world, today. The Cold War and Mutual Assured Destruction almost look like the good old days. The enemy we face today will not go away, metamorphose or quit. We are in a fight to the death.
Are there any aspects of the original storyline you wish you'd have done differently?

It may sound conceited, but there's nothing I can think of that Sharon and I would want to change. We were very happy with the characters, the stories and the eventual resolution of the story line.
The Survivalist is seeing something of a comeback as GraphicAudio.net has been producing them as books on CD. I've listened to a few of them and am duly impressed with the quality. Do you have any input to those productions?
We have no input concerning the Graphic Audios' productions, except to point out after hearing the first book that "Metalifed" was not
"me-tal-i-fied." The Graphic Audio people are meticulous in their work
ethic and very fine people with whom to work and do business. We're
happy!

Was The Survivalist ever optioned to be a movie? There is a low-budget one out on VHS called The Survivalist but I don't believe it has any connection to your books, aside from the title. Any interest in updating the story with a new screenplay?
Dino DeLaurentiis, the legendary film maker and grandfather of the
beautiful TV chef, had the first nine books under option and we wrote two screenplays for him, trying to compress nine books into two hours on screen. At least one other writer, and possibly more, tried the same
thing. A director was assigned to the project – Lewis Teague. A very
nice fellow and quite a marksman – if memory serves, he was on the Army's pistol team – we enjoyed working with him. Still, the two hour
condensation eluded us all. This was when two hour films were the fashion – thankfully no more – and Dino was producing "Dune," so condensed that in its initial showing a crib sheet was handed out to assist people in understanding the story. Dino and his people were extremely pleasant to work with. We wrote still another screenplay – a different project — at his request. It was never produced. We took the idea and used it as the basis for our three-book series entitled SURGICAL STRIKE. As to that film of the same title as THE SURVIVALIST, we saw it and that's all I'll say about it. As to the possibility of something movie-wise in the future, of course we'd be open to it and you never know. John Rourke keeps on going and going. But, nothing is in the works and nothing is planned.
What are your favorite post-apocalyptic books and movies?

It's a genre I neither pursue nor avoid. My favorite post-apocalyptic books are our own. So, shoot me, I'm conceited!
You have a new non-fiction book coming out soon. Can you tell us a bit about it?
We've always done a lot of non-fiction work, of course, in that case
rather than collaborating on the books, as Sharon and I do (we brainstorm plots, I write, Sharon researches and edits me), I do the writing and Sharon does the photography. She's very good. SURVIVE! THE DISASTER, CRISIS AND EMERGENCY HANDBOOK will be out in mid-March, if memory serves, coming from Gun Digest Books/Krause Publications. It's a practical guide to disaster preparedness, to getting through a rough period — whether days or weeks or months – and coming out on the other side. There is one chapter dealing with firearms, but the major emphasis concerns understanding the natures of various manmade and natural disasters and how to prepare, from emergency food and water to neighborhood organization to basic skills one needs to acquire. It really is an "…EMERGENCY HANDBOOK" and is a project about which we – and the publisher – feel quite strongly.
In addition to Survive!, any other projects on the horizon?
We should have our latest novel out this year – we'll tell you more about that when we have a publication date – and one or two more non-fiction books. And, of course, we have regular monthly columns in GUN WORLD MAGAZINE, DILLON BLUE PRESS and GUN DIGEST THE MAGAZINE, and a regular column – "Ahern On Swords" – in the bi-monthly magazine KNIVES ILLUSTRATED.

You and your wife Sharon have collaborated on a number of projects. Was she also actively involved in The Survivalist? Can you tell us a little about how a collaboration works between the two of you? Do you share writing duties, trading off chapters for example?
I covered our working technique in answering a previous question. As to collaboration, we met when Sharon was thirteen and I was fifteen, were engaged when Sharon was sixteen and I was eighteen, married when Sharon was twenty and I was twenty-two. Somehow, I'm sixty-three and Sharon's still in her twenties. Our greatest collaborative efforts were our son and daughter. Our son and his wife have two sons and two daughters, our daughter and her husband a daughter. Collaborating is fun and it's catching!
In addition to The Survivalist, you have written many other books, including a few different series such as The Takers, Track, and Defender. Any particular book or series stand out as being the one of which you're most proud or with which you had the most fun?
If you just count novels which have been in print publication, we have eighty-one out, so far. We're political junkies and, although we feel passionate about all our books and are particularly fond of THE TAKERS, werewolveSS, THEY CALL ME THE MERCENARY and THE SURVIVALIST, we are very proud of THE DEFENDER. We have the annoying proclivity for being somewhat prescient in our writings and, unfortunately, THE DEFENDER is proving rather prophetic. If you have a power-drunk bunch of wannabe dictators trying to muscle America, as in the series and as in reality, you've got a problem. Get out and vote and take America back! Thanks for thinking of us and visit us at www.jerryahern.com every once in a while for my political rants.
Contest details:
How would you like a copy of THE SURVIVALIST #1 – Total War, SIGNED by both Jerry and Sharon Ahern? Here's how to enter. Go over to the SurvivalWeekly.com message board. Scroll down the board to find the discussion section for the Library at the End of the World. I've started a thread there for contest entries. In that thread, post your answer to this question:
What was the name of John Rourke's friend, whom he met after the plane crash in book 1 and would often let loose with a "rebel yell" in battle?
On Monday, March 1, I will randomly choose one winner from all correct entries. Remember, it doesn't matter if you're the first correct answer or the last. Just as long as you post your answer in that thread on the message board between now and 8AM, CST, Monday, March 1. Good luck!

Note, you will need to register on the message board prior to making posts. Just click on the Register link at the top of the message board and follow the directions.